my latest sculpture
A fire-fighting themed, motorised desktop sculpture:


current rolling ball projects
For all you rolling ball sculpture fans, we have released the first of our industrial styled sculptures! The new style of desktop sculpture uses a single tipping arm to subsequently release the next marble. The base is a heavy steel cog and this sculpture has the letter "R" welded to it as the frame for the sculpture. Sculptures can be commissioned with the letter of your choice as the frame.

The video and photo of the new sculpture can be seen here.


building a rolling ball sculpture
Always wondered how the sculptures are built? Watch a time-lapse video of David making one of his desktop style rolling ball sculptures.


other rolling ball information
Rolling ball sculptures are displayed in many museums and art galleries world wide. In 2007 a large rolling ball sculpture was featured in the movie 'Fracture', starring Anthony Hopkins and Ryan Gosling. The rolling ball sculpture, approx 6ft high by 6ft wide was built with shiny metallic tracks and carved wooden wheels. Small glass balls skittered and rolled in an elaborately choreographed dance - a beautiful piece of precision machinery and impressive kinetic art.


follow us on facebook
rolling ball sculpture - donation
David is proud to have donated a rolling ball sculpture to the Make a Wish Foundation - Adelaide Branch - for their annual Gala Ball. The donated sculpture was Desktop Sculpture #35
welcome
Welcome to rolling ball sculptures designed and created by David Morrell. Avid Creations is a company based in Adelaide, South Australia, and are able to supply rolling ball sculptures world wide. Through our website you are able to view and purchase existing sculptures that we have designed and developed, or alternatively contact us for further information regarding commissioning a sculpture of your own design.

A rolling ball sculpture is a series of tracks where a marble or ball makes it's way along, through, over, under, around and down the sculpture. Along it's path the marbles pass through 'track components' which either slow, speed up, or purely entertain the user. Track components for example may include loops or tipping arms.

Design plays an important role in the development of the sculptures, and there are an infinite number of design possibilities for any one sculpture.

The sculptures are great for children (over 3's) and also the perfect gift for that person who thinks they have everything.

If you wonder how David started building Rolling Ball Sculptures watch the video below for an insight.


Sphere Rolling Ball Sculpture
David has recently installed a 1.4 metre sphere sculpture in the home of a private collector. The total height of the piece is 2.4 metres.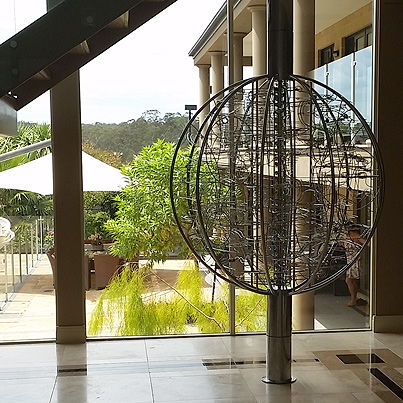 View the Sculpture in action below
rolling ball sculptures


A single track, hand-fed, industrial style rolling ball sculpture using 25mm glass marbles.
MORE DETAILS
| | |
| --- | --- |
| | A three track hand-fed rolling ball sculpture using 25mm glass marbles, commissioned for a customer in the United Kingdom. MORE DETAILS |
| | |
| --- | --- |
| | A two track Rolling Ball Sculpture using 1" (25mm) marbles. It contains a flat spiral, tipping arm and loops. The unique part of the sculpture is, that it has a semi-automatic ball return system. MORE DETAILS |
| | |
| --- | --- |
| | A single track rolling ball sculpture. This version of a desk-sized sculpture is smaller than other models previously constructed and does not contain any track components. MORE DETAILS |
| | |
| --- | --- |
| | A three track rolling ball sculpture with double tipping arm, loops, spiral and various other track components. This sculpture also has a four wire tube which the balls travel through. MORE DETAILS |